All the best places you must visit in a Ha Giang Tour
In the recent years, Ha Giang has become increasingly famous with its spectacular landscapes and winding passes you can't find anywhere else. The place still remains untouched by mass tourism and hence offers travellers an unique and authentic experience. Below we'll introduce you to all the best places you must come to in your next
Ha Giang tour.
WHERE IS HA GIANG?
Ha Giang is a mountainous province, located in the northernmost part of Vietnam, 320 km from Hanoi, adjacent to Lao Cai (where Sapa is located),
Cao Bang
(with the famous Ban Gioc waterfall), Tuyen Quang and the North borders of China. Almost 90% of Ha Giang's population are ethnic minorities with different cultures.
Ha Giang is famous for the wild beauty of nature, with the most rugged passes winding around majestic mountains and hills, where there are hospitable and friendly local people. It can be said that the province is one of the most desired destinations in Vietnam to those who are adventurous.
The travelers often said: "Everyone should come to Ha Giang, at least once in their life.". If you're seeking an off-the-beaten-track corner, then Ha Giang is definitely the best choice you've got!
GET TO HA GIANG FROM HANOI
The distance from Hanoi to Ha Giang is about 300 km. There are two popular means of transportation to travel to Ha Giang
Motorbike: You can choose to ride a motorbike which takes about 8-10 hours depending on the speed of the bike. However, the scenery from Hanoi to Ha Giang is not unique.
Sleeper Bus: You can save time and energy by taking a bus from My Dinh bus station to Ha Giang city. The price of a sleeper car is 200,000 VND / person and the travel time is about 5 hours. When arriving in the city, you can rent a motorbike at about 120,000 VND /one to explore Ha Giang.
ALL THE BEST PLACES FOR HA GIANG TOUR
1. Hoang Su Phi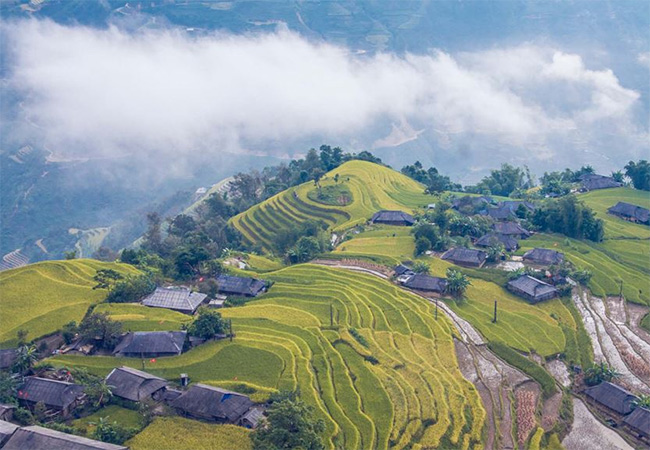 Hoang Su Phi's terraced fields
Hoang Su Phi is located about 50 km from Ha Giang city, this is a border district attracting intrepid tourists because the roads are quite rugged. It is also known as one of the most beautiful land of terraced fields, where you can easily see terraced fields stretching immensely to the horizon, winding around mountain hills.
The time of ripe rice season in Hoang Su Phi is from September to the end of October of the solar calendar. Therefore, you should come at this time to admire the best scenery.
In addition, you can also travel at Hoang Su Phi from March to May, when local people pump water into the fields to prepare for the new crop, making all the fields look like giant mirrors.
2. Quan Ba Heaven's Gate and Twin Mountains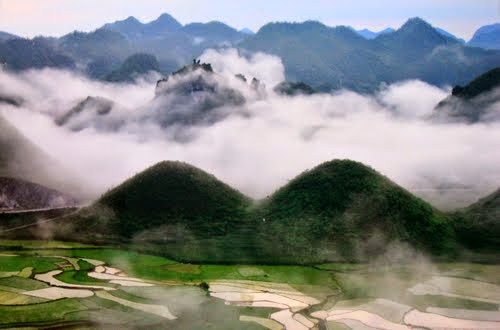 Quan Ba's Twin Mountains
Quan Ba is 46 km from Ha Giang city to the North, past Bac Sum slope, you will reach Quan Ba sky gate. From Heaven Gate, you can see the whole Tam Son town with cool climate all year round and admire the charming Twin mountains with the shape of breasts of a fairy sleeping in the valley. Twin Mountains is a unique masterpiece that nature bestowed on Ha Giang's land.
3. Yen Minh pine forest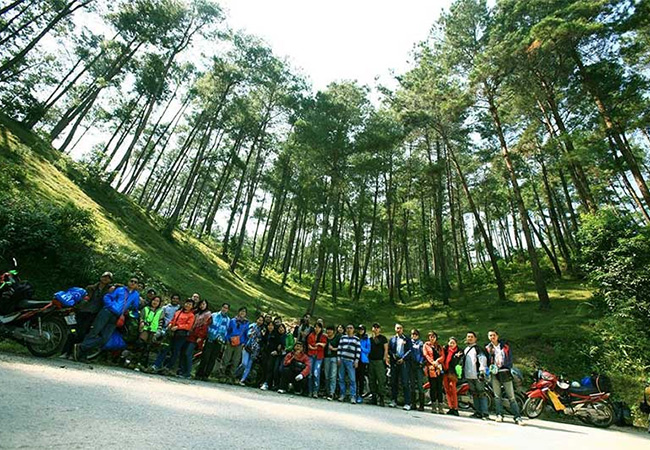 Yen Minh Pine forest
Yen Minh pine forest is located about 100 km northeast of Ha Giang city. Driving along the 4C Highway to Yen Minh town, visitors can see the Yen Minh pine forest stretching, looking beautiful and poetic as the second "Da Lat" in the Northeast. The vast green pine forest of Yen Minh has been an attractive destination for visitors to the Ha Giang rocky plateau.
4. En Cave
En Cave is located in Yen Minh district, 60 km from Ha Giang town and is home to thousands of young swallows. To reach this place, visitors have to go through quite a long journey, through Quan Ba Heaven Gate and then the pine forests. But when you arrive in the cave and admire this unique wonder, you'll surely find it worth your time and effort!
5. Tham Ma slope

View from the top of Tham Ma pass
Tham Ma slope is a long pass, it starts from Minh Tan distance and stretches to the end of Quyet Tien commune. If anyone has ever passed the Tham Ma slope, stand at the top of the slope and look back on the road you have traveled, you would be very proud (especially for motorbike riders). From above, it looks like the roads are swallowed up by the two huge mountain ranges stretching on both sides. Seen from the top of the mountain, the Tham Ma slope looks like the image of a giant snake that is only found in legends slithering in the high mountains of the Northwest.
6. Pao's house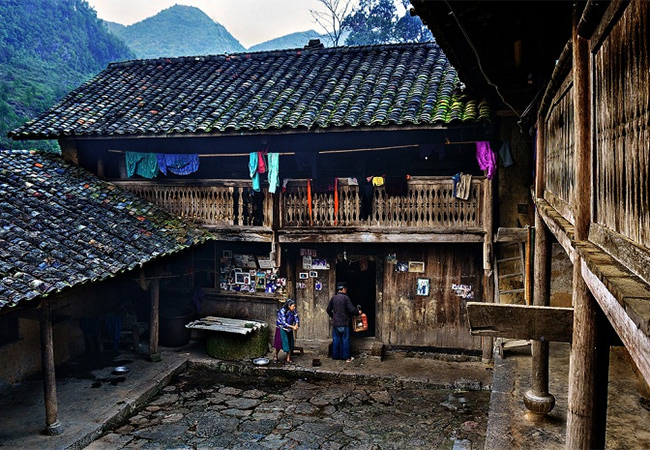 Pao's house
Pao's house is located in Sung La commune, about 20 km from Dong Van old town. The house used to belong to one of the richest person of Mong ethnic community, Mr. Mua Sua Pao. It has a unique architecture with 100% hand-made materials. The gate of the house is made of wood while the footings and fences are made of stones. The house makes visitors feel like they're in a small village often seen in Korean films.
7. Pho Bang town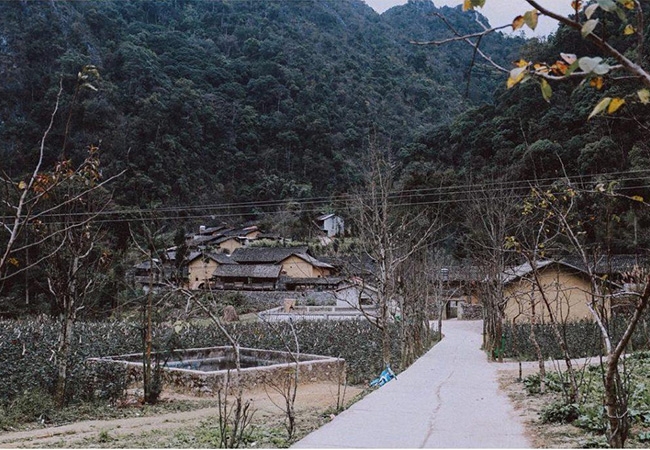 Pho Bang
Pho Bang is an ancient town close to the Vietnam - China border, located in Dong Van district, Ha Giang province. Pho Bang is only about 5 km from Yen Minh - Dong Van route, but most travellers hurriedly explore other roads, only a few people make a stop in Pho Bang. Therefore, Pho Bang remains to be a peaceful mountain town, mostly untouched by tourists and still retains its own beauty.
8. Lung Cu Flagpole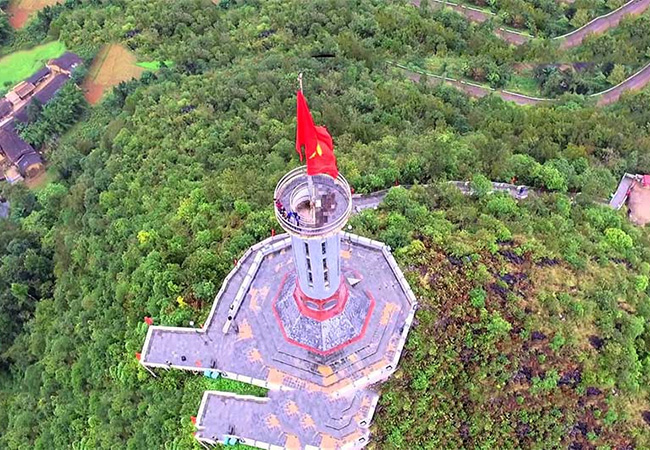 Lung Cu Flagpole from above
Lung Cu flagpole is the marking point of the northern pole of Vietnam. It is one of the sacred destinations of the country, which many tourists desire to visit in the journey to discover the magnificent Dong Van rock plateau.
From the road, drive 1.5 km uphill to reach Lung Cu flagpole, park your bike and then climb 389 stone steps to the viewpoint of the pole. You can also continue to climb 140 spiral steps right inside the flagpole to reach the top of Lung Cu flagpole, where you'll stand right under the red flag with a yellow star, the metaphor of 54 ethnic groups fluttering in the wind.
9. Dong Van old town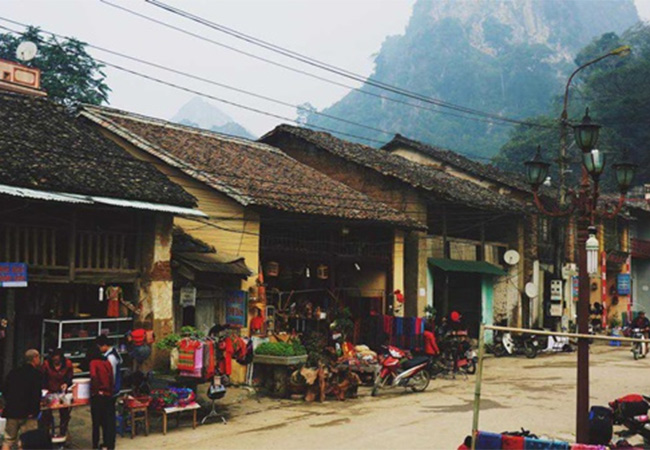 Dong Van old town
Dong Van Old Town is located in Dong Van Town, Dong Van District, Ha Giang Province, which is one of the main tourist attractions of Ha Giang. The town has a history of architecture and culture development for hundreds of years. It is where you can explore and learn about unique ancient architecture, ancient markets with traditional culture and old-fashioned coffee shops.
10. H'Mong King Palace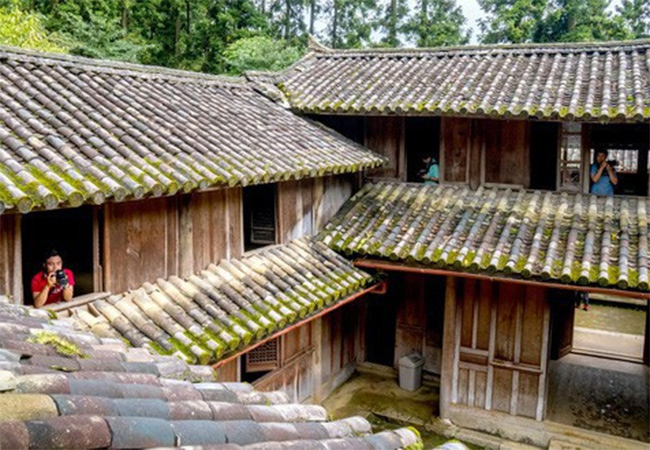 King of H'mong Palace
The palace belongs to King Vuong Chinh Duc, located in Dong Van. It is recognized to be a national architectural monument by the government. The palace is nearly 100 years old, King Vuong Chinh Duc hired many skillful Chinese and Mong workers to build the mansion in nearly 10 years. The construction costs about 150,000 silver coins (equivalent to 150 billion Vietnamese dong at that time).
11. Ma Pi Leng pass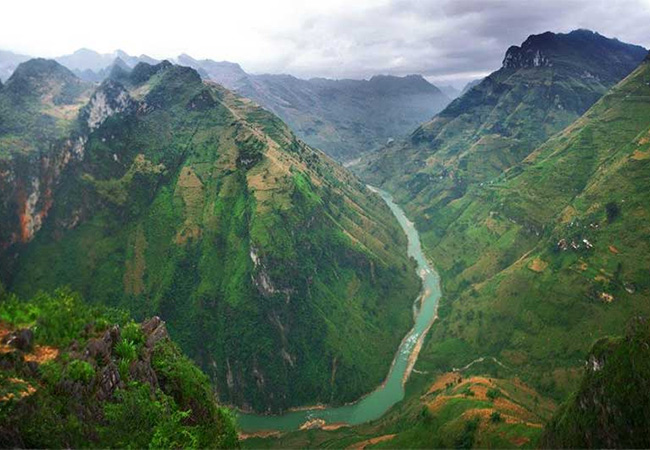 Nho Que river view from Ma Pi Leng
Ma Pi Leng is the name of the dangerous pass road of Ha Giang, about 20 km long, located on the Happiness road connecting Ha Giang city, Dong Van district and Meo Vac town.
Ma Pi Leng Pass is not long but it is the most rugged mountain pass in the northern border mountains, also called as the "king" of the Vietnam passes. The pass was initially opened only to make room for pedestrians and horse-drawn carriages, but it was later expanded for cars but it was still dangerous because of the steepness with many turns and twists.
Lying at the foot of the pass is the famous Nho Que river. From the top of the pass, you can see the beautiful small curve winding around the majestic mountains, creating a breathtaking view that can't be described by words only. You can also have a boat ride on Nho Que river, it'll take you about 30 minutes.
If you want to explore all the destinations above in your Ha Giang tour, you should spend at least 4 days in Ha Giang. Hope you'll have a fantastic trip!
Responsible Travel
Being a responsible eco tour operator is at the heart of what ACTIVETRAVEL ASIA is all about. From the start, we have been committed to offering low-impact tours that benefit traveler and host alike. We work with local communities, businesses and individuals to develop sustainable tourism opportunities that help local economies while minimizing negative environmental and cultural impacts.