Experience Ha Giang to the fullest: the 4-day itinerary
Most visitors to Ha Giang spend about 3 days for exploring the province. However, if you want to experience this place to the fullest, a 4-day trip would be ideal for you. During this trip, you can visit all the beautiful tourist attractions, boating on the Nho Que River and enjoy the serenity of some local villages in a
Ha Giang trekking tour.
A brief introduction about Ha Giang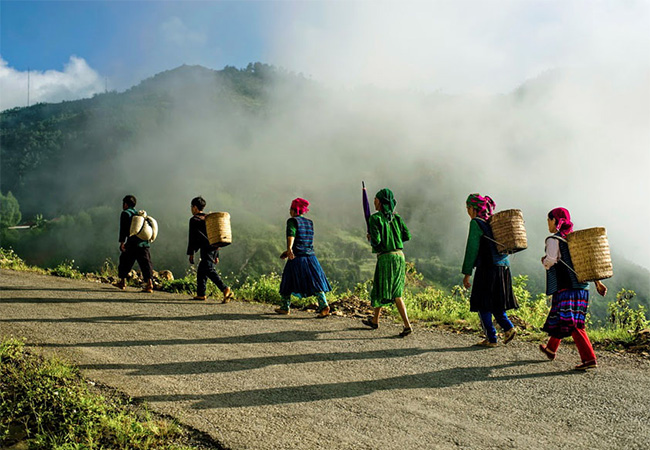 Ha Giang local people

Ha Giang is located in the Northeast Vietnam. The province borders China in the North and is widely known as Vietnam's final frontier. It's home to more than 20 ethnic minorities, making the province an interesting destination for tourists who love to learn about Vietnam's people and cultures.
For many years, Ha Giang has been famous for its natural landmarks such as Quan Ba mountain, Dong Van Plateau, Ma Pi Leng pass, Nho Que river and Meo Vac. The spectacular sceneries will impress any travelers coming here. However, because of the fact that the province is quite far away from big cities and the roads are rough, the number of tourists visiting Ha Giang remains at a quite low level.
Also, coming to Ha Giang, you will have the chance to participate in some unique traditional festivals such as "Nhay Lua" of Pa Then ethnic people (October 16th according to Lunar calendar) and Khau Vai Love Market (March 27th according to lunar calendar).
For many travelers, Ha Giang is a mysterious area with the diversity of cultural identities showcased through unique cuisine, costumes, festivals and customs.
Before the trip
- Choose the means of transport to get to Ha Giang:

There are two common ways to get two Ha Giang from Hanoi:

+ Catch a sleeper bus from My Dinh station in Hanoi: Go to My Dinh station to buy the tickets directly or call the bus company to book the tickets. Also, you can book the tickets online via reliable booking sites such as Vexere.vn, Baolau.vn. The ticket should cost around 200,000 vnd.

+ Ride a motorbike: Rent a motorbike from one of the motorbike shops in Hanoi, make sure the motorbike is still in good condition. Ha Giang is quite far from Ha Noi (more than 300 km) so you should be experienced in riding bikes.
- Pack your stuff: Bring enough clothes for the upcoming 5 days. Don't forget to bring a coat because it's quite cold in Ha Giang at night.
The 4-day itinerary in Ha Giang
Day 1: Ha Giang city to Yen Minh
Morning: Ha Giang city to Quan Ba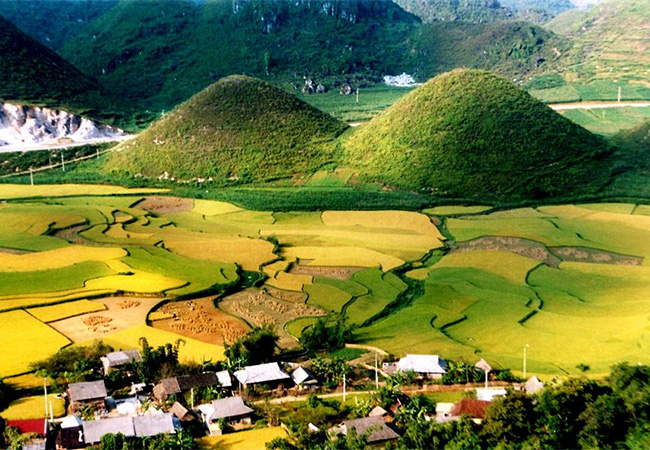 Quan Ba twin mountain view from Heaven's Gate
Leave Ha Giang in the morning and head north on the QL4C (National Highway 4C). As soon as leaving the city center, you will find yourself in the middle of a limestone mountain range covered with lush jungle. Along the way, you can visit Dong Van Karst Plateau, a UNESCO Global Geopark. After more than 1 hour driving, you will reach Quan Ba District. The highlight of this place is Heaven's Gate, where you can have a panoramic view of stunning mountains and challenging curvy roads below. The most famous natural art here is called Twin Mountain. You can sip a cup of coffee on the top of the pass before cruising down.
Leaving Quan Ba Heaven's Gate, you will arrive in a town surrounded by forested hills named Tam Son by noon. You might want to have lunch by now. There are many road stalls serving local food with a reasonable price for you to choose from.
Afternoon: Quan Ba - Yen Minh:
Continue your trip on the Highway 4C towards Yen Minh. You can admire the beauty of Mien River along the road. You should reach Yen Minh town by late afternoon and settle in at a local hostel here for the evening.
Remember to book your accommodation in Yen Minh town in advance since during high season, the rooms are occupied pretty quickly.
Day 2: Yen Minh to Dong Van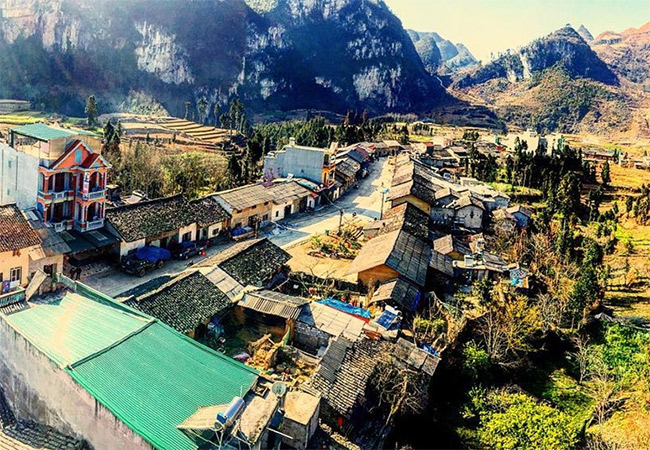 Dong Van from above
Dong Van is about 40km from Yen Minh. Wake up early, enjoy a steaming bowl of Pho for breakfast before heading to Dong Van. You will soon find yourself climbing on a steep road lying among the eroded limestone karsts with incredible views at every turn. Tham Ma Slope and Nine Turn pass (7 km from Tham Ma Slope) are two great place to stop and admire the sets of curvy roads descending into the valley below. You don't have to find ways to the two spots as you must pass them before reaching Dong Van old town.
For food and petrol, stop in the Sà Phìn area.
After about 3 hours of driving, you will get to Lung Cu Flagpole - the marking point of Vietnam's Northeast area. Climb to the top of the Flagpole and enjoy the 360-degree views over the border into China.
Back on the Highway 4C and continue to Dong Van, you'll see a lot of stunning views on the way. Carve yourself some time to make some stops along the way and take some pictures.

When you arrive in Dong Van, set aside time to visit a night local market in which you can see the colorful ethnic minorities costumes and handmade products.
Again, please note that your accommodation should be booked in advance.
Day 3: Dong Van - Ma Pi Leng Pass - Meo Vac

The winding Nho Que river below Ma Pi Leng Pass
The road from Dong Van to Ma Pi Leng pass is probably the most mind-blowing stretch of road in all of Northern Vietnam. As you wind your way through massive peaks and canyons, you'll see the view getting more and more spectacular. You may feel compelled to make many stops along the way as every turn reveals different picturesque views.
Don't head to Meo Vac yet even though it's only 24 km from Dong Van. Go boating on the green Nho Que River at the foothill of Ma Pi Leng pass. Local people run the boating service here so don't forget to contact them first to get some useful information.
Since you've discovered most of Ha Giang by motorbike, you might want something different, a Ha Giang trekking tour for example. After boating on Nho Que River, you can set on a light trek along the banks of the Nho Que River to visit the villages of some local tribes.
Note: If you want to spend most of your time trekking in Ha Giang, then go with a professional
Ha Giang trekking tour.
Head to Meo Vac, a small but charming district hemmed in by steep karst mountains. Book a homestay here for the night.
Day 4: Back to Ha Giang city
Start your day with a simple breakfast and make the journey back to Ha Giang. Follow the Highway 34 towards Ha Giang. You can see the beautiful Gâm River along the way, making it an ẹnjoyable drive. There will still be many twists and a few passes but they're not as strenuous as before.
Grab something to eat at one of the local food stalls when you arrive in Bac Me. There'll be fewer towns in the last stretch before reaching the city.
You should have arrived back in Ha Giang city in the afternoon. Treat yourself to some modern comforts after all the 4-day trip.
Tours in Ha Giang you can take into consideration:
Motorcycling North East Vietnam
Responsible Travel
Being a responsible eco tour operator is at the heart of what ACTIVETRAVEL ASIA is all about. From the start, we have been committed to offering low-impact tours that benefit traveler and host alike. We work with local communities, businesses and individuals to develop sustainable tourism opportunities that help local economies while minimizing negative environmental and cultural impacts.