Top 8 Gorgeous Family Holidays in Vietnam
Traveling with kids could be overwhelming. You may imagine a journey filled with lots of fun things to do in Vietnam, but as a parent, instead of planning a hassle-free trip, you're going to run into a few challenges with your kids.
Don't worry! We have listed top 8 ideal destinations for your family holiday in Vietnam. Our experts make sure any family tour packages in Vietnam are designed to accommodate and surprise kids – minimizing strenuous activities and including harmoniously the factors: relaxing and exploring nature & culture.

Cruise and go off-the-beaten-path in Halong Bay !
Halong Bay is one of the greatest attractions in North Vietnam, located about 180km from Hanoi capital, taking about 1.5-hour transferring by bus. Halong Bay provides the perfect combination of relaxation and outdoor activities. What makes this UNESCO World Heritage Site so memorable to the kids is its imposing scenery along with numerous activities on offer such as hiking, discovering the intriguing limestone caves, joining cooking class and swimming. Taking a cruise trip around Halong Bay is the most popular activity for family holiday in Vietnam, if you consider a little bit more active trip, head to Cat Ba Island on the west of Halong Bay, a wild terrain for adventure sports: rock climbing, hiking, kayaking and mountain biking. Don't miss out these
top 4 must-visited attractions on Cat Ba Island.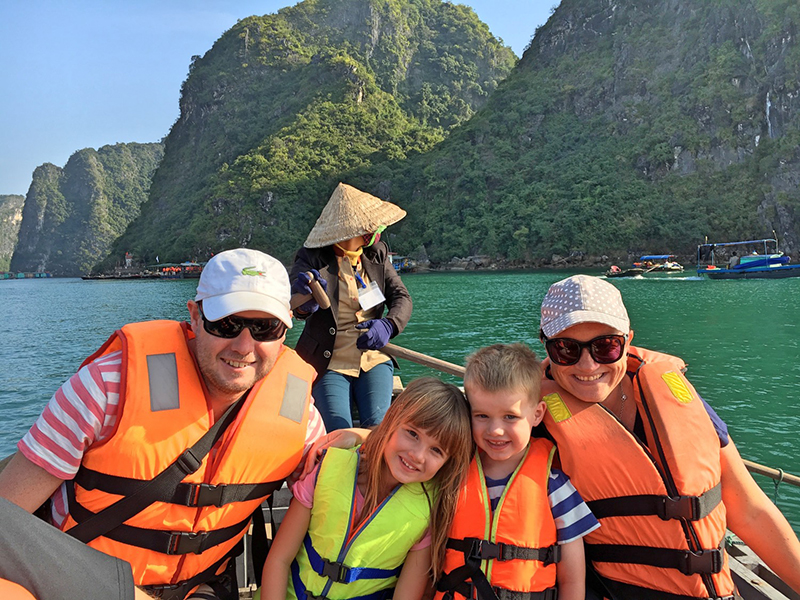 Family trip in Halong Bay

There are a huge number of Halong cruise, you should refer some
tips to select the best Halong cruise tour
for a family vacation. With kids, the bigger and high-quality cruises are the priority as they have more activities onboard and will be more likely to have other families with kids to interact with. Please note that most of Halong cruises are not designed to keep the children safe, so the very young children who just learn to walk and can't understand the dangers themselves should not be allowed to get on the cruise unless you want to spend your whole cruise chasing your toddler.
Trek in Ba Vi National Park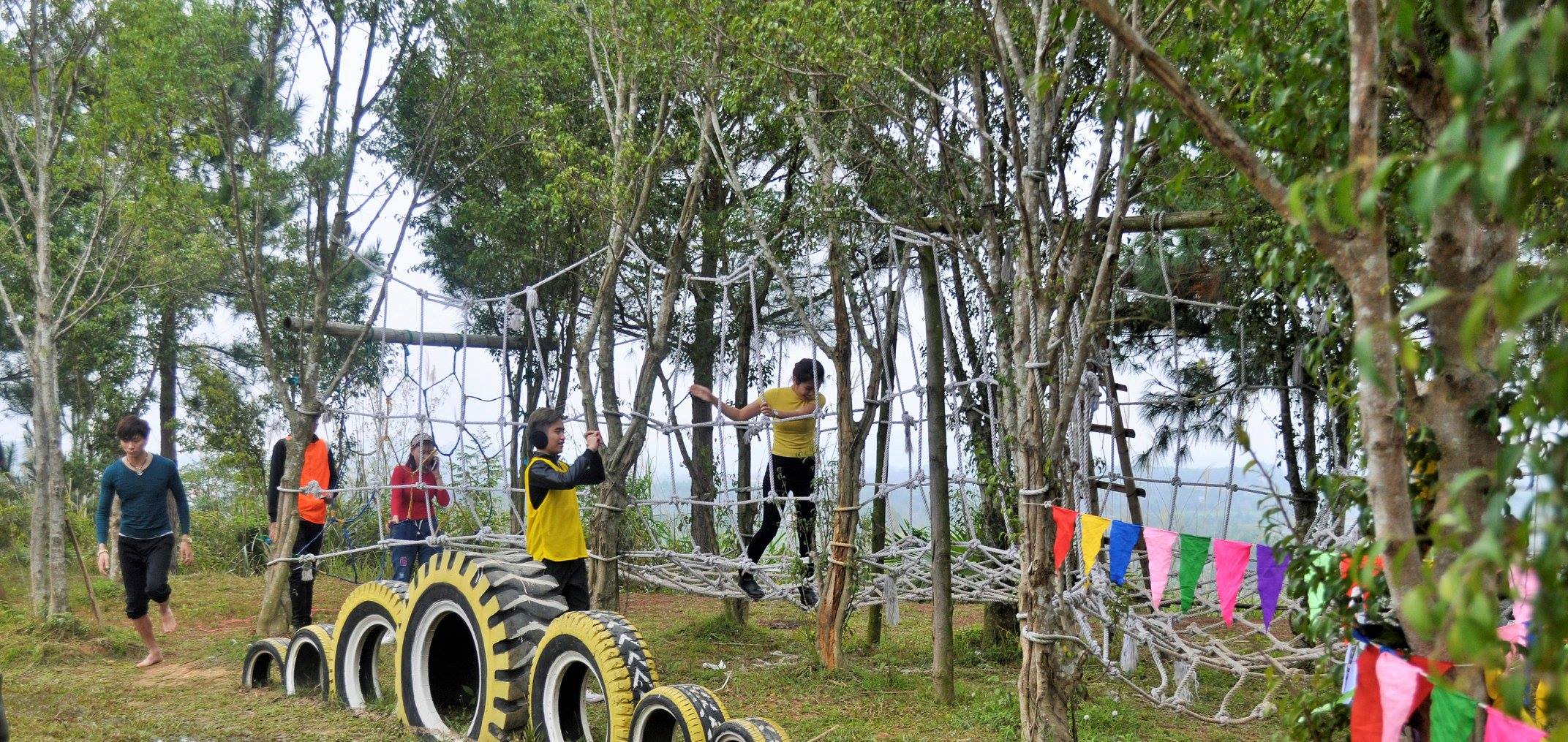 Fun activities in Ba Vi National Park

This 10,000-hectare biodiverse area offers lots of things to discover as well as have fun. From splendid tourist resorts, a host of intriguing mini trekking trails and the mysterious historical ruins to spectacular jungle sceneries in different seasons and a huge waterpark, Ba Vi National Park's wildlife and biodiversity are truly extraordinary. It brings your kids a meaningful experience with various activities exploring the nature, culture and also the history.
Explore the northern farming villages
3 hours transferring from Hanoi, you will arrive in Hoa Binh Province where quaint Mai Chau villages settled in the deep valley. Mai Chau is truly a sight to behold. It is seemingly untouched by modernization. Let's your kids be amazed at the landscapes transforming from congested rowhouse to wide-open rice fields, karst mountains and quaint wood-and-bamboo villages.

"Don't worry that the children would feel so bored when visiting the rural Mai Chau valley as there are many fun activities awaiting you."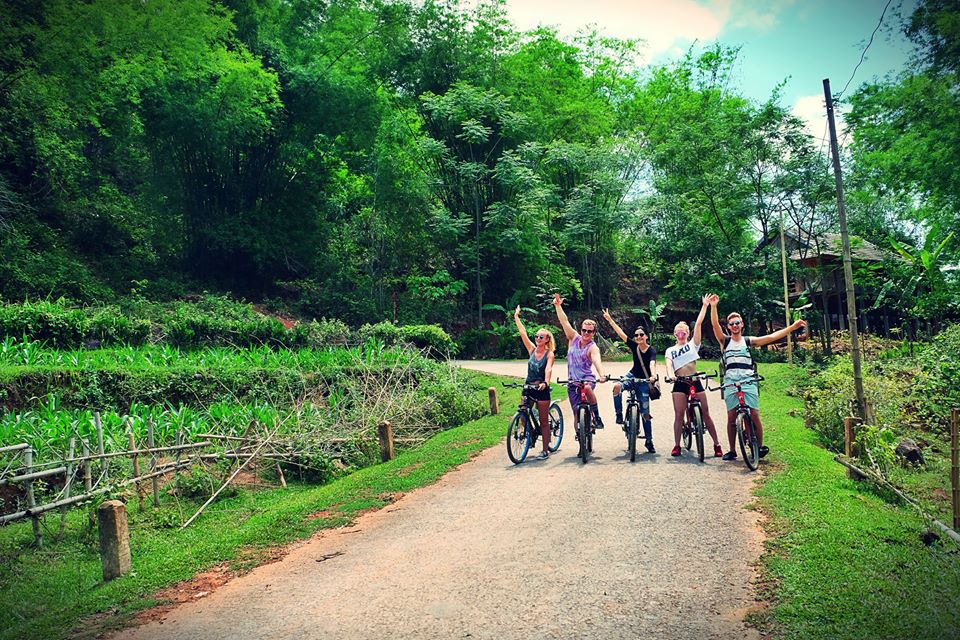 Biking activity around Mai Chau villages

Spend a couple of days in your family holiday in Vietnam here, take this chance to explore the unique local culture and enjoy the laid-back atmosphere which is rarely found in big cities. Visit the local village and tribal souvenir workshops, cycle around the brilliant green rice fields and join the locals farming activities then fill your evening with some specialties and local drinks while your kids enjoy traditional Xoe dance.
Discover the rich-history Hue city (home to 7 imperial tombs and "The Citadel")
Hue is home to a myriad of war-torn temples, tombs and palaces, many of which worship the Nguyen Dynasty. Though the Nguyen dynasty is no more, Hue still exudes something of a regal and dignified air. The city boasts an unparalleled opportunity for historic and culinary exploration. It nurtures poets, artists, scholars and intellectuals, and you'll notice, unlike elsewhere in Vietnam, that female students still wear the traditional ao dai.

Cyclo tour in Hue city

Your kids definitely would love to enjoy the heaven of street food in Hue with a variety of delicious dishes such as Com Hen (rice with mussel), Bun Bo Hue (Hue beef noodle), Banh Beo (bloating fern-shaped cake) and Banh Bot Loc (rice dumpling cake), etc. Especially, don't miss a family holiday in Hue, Vietnam to discover the ancient architectures in Hue including the Imperial Citadel (a UNESCO World Heritage site) and the 7 magnificent tombs of Nguyen's Kings; join a boat trip along picturesque Perfume River and enjoy wonderful Hue royal court music.
Create a souvenir at Hoi An Lantern town's local art workshop
A family holiday in Hoi An, Vietnam must be listed in your plan as this ancient town could bring you an interesting experience out of your expectation. Hoi An Old town preserves full of compelling sights and boasts a rich architectural fusion of Chinese, Japanese, Vietnamese and European influences dating back to the sixteenth century. This is the only place in Vietnam that bans traffic in the town center and forces local businesses, by law, to dangle lanterns from their facades and retain the town's old-world charm.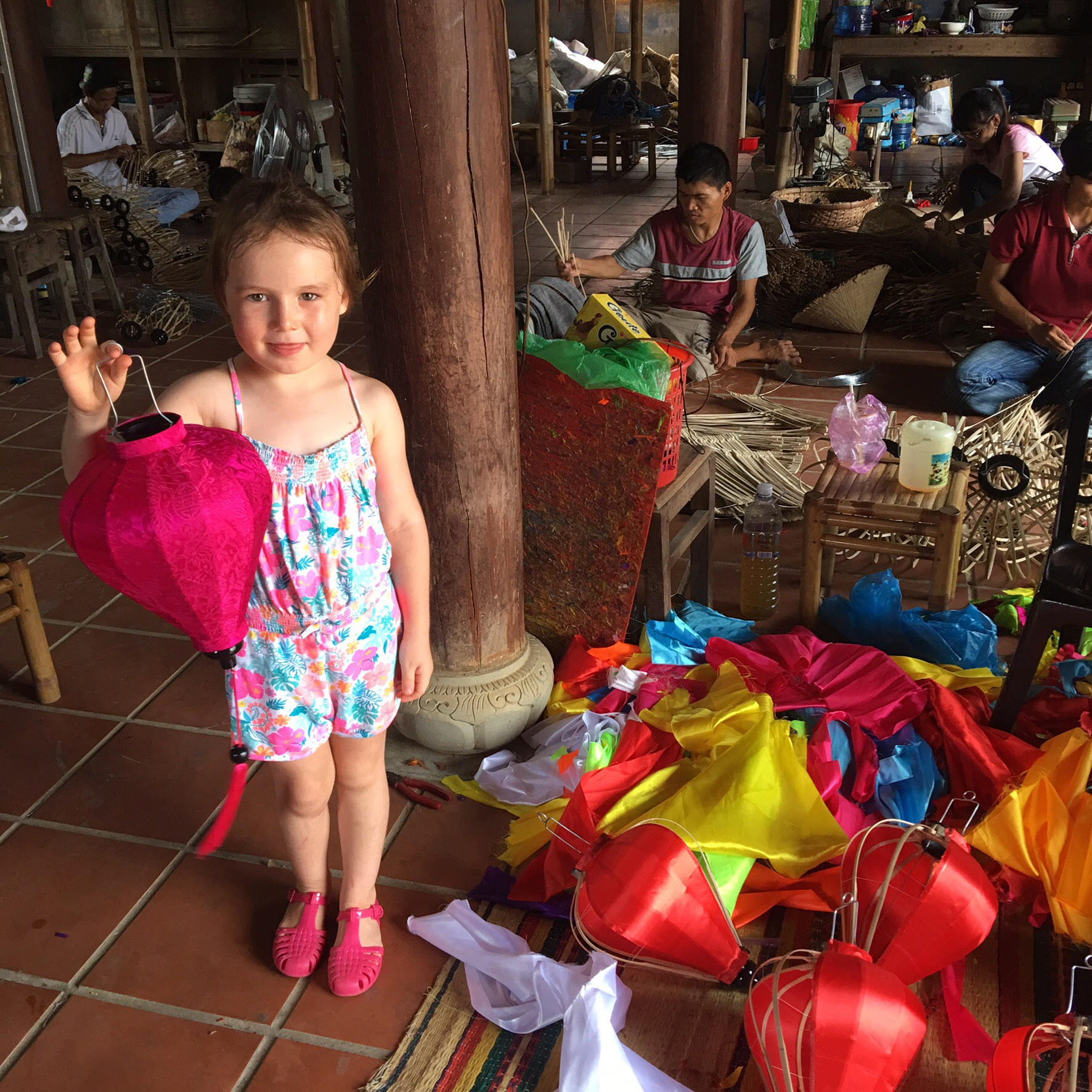 Hoi An Lantern making class

Most visitors, especially kids, are keen to experience something of Hoi An's long-held reputation for traditional wares, and the handicraft workshop offers a good introduction to skills such as lantern-making, mask-making and embroidery. Let your kids experience some cultural activities in the old town and teach them how to appreciate the traditional values. Also, there are many fun things to do in Hoi An including enjoy the extraordinary cuisine ranking among the best in Asia, go shopping in local colorful night market or have fun swimming at the beaches.
Relax in Phu Quoc Islands
Phu Quoc Island, an ideal place for a family beach holiday in Vietnam, is located in far South Vietnam and only accessible through plane or boat. This is one of Vietnam's most beautiful islands with idyllic beaches, picturesque sceneries, evergreen forests and a gigantic Vinpearl amusement park.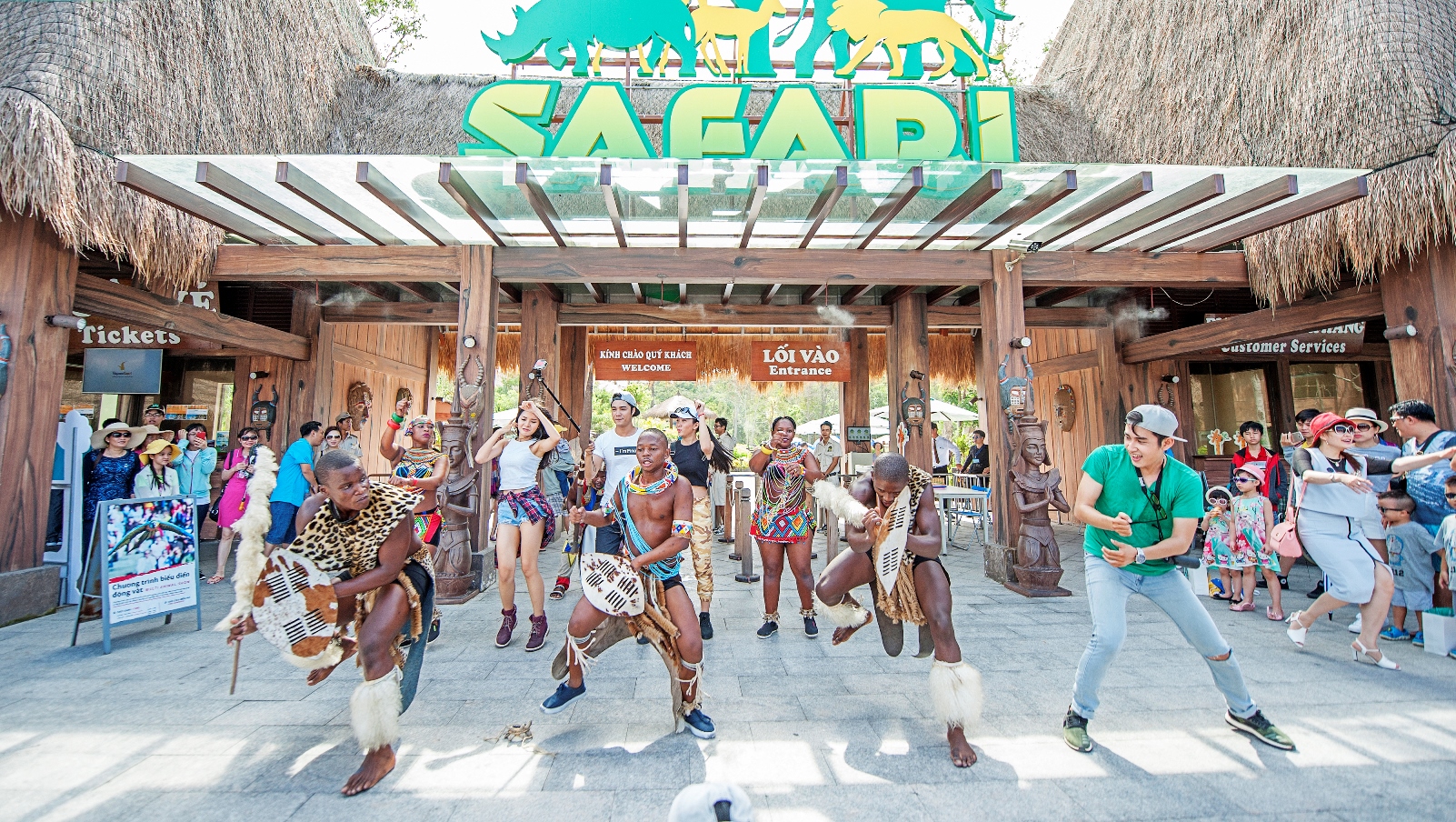 Phu Quoc Vinpearl Land

Aside from beachside activities, your family can also discover traditional villages, a UNESCO-listed national park and historical sites. Refer to
Top 10 things to do in Phu Quoc island holidays
. Thanks to its coastal setting, Phu Quoc Island offer fresh seafood, tropical fruits and some of the most Vietnamese delicious dishes at affordable prices. When the night falls, head to the night market where you get a chance to have fun drinking, eating, shopping and enjoying live music show.
Experience the floating life in Mekong Delta
Mekong Delta expresses the rich cultures of Vietnam's agriculture and gives visitors a true sense of senerity. Referred as "The rice bowl of Vietnam", Mekong Delta is blessed with a diversity of cultures, traditions and tropical fruit orchards. Let your kid escape from the frenetic energy, high-tech cities and modern life to enjoy the rustic charm and picturesque scenery of Vietnamese heartland that can't be seen elsewhere on earth.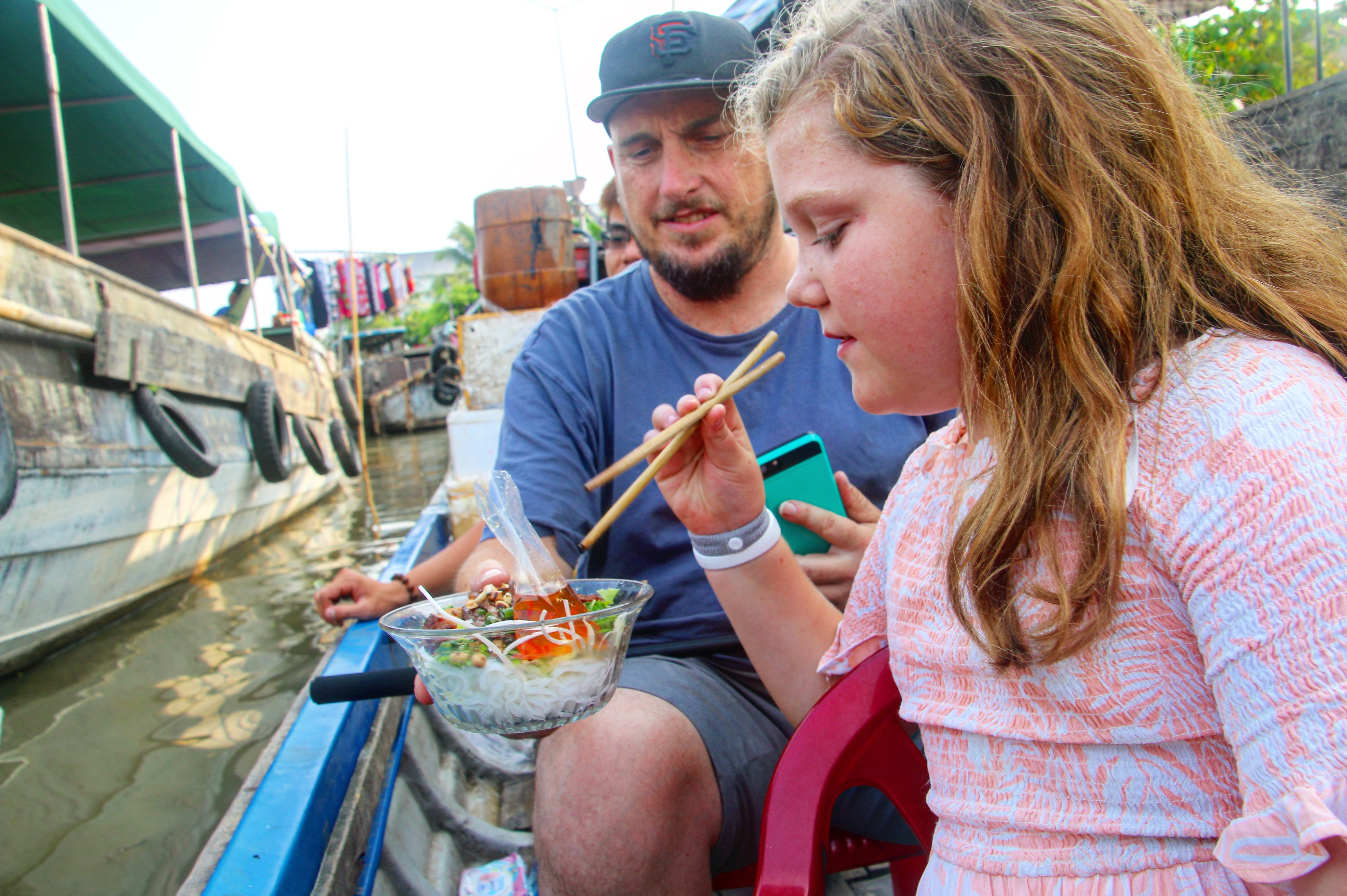 Enjoy breakfast on the floating market, Mekong Delta

Your family holiday in Vietnam wouldn't be fulfilled if you miss the
cultural values in Mekong Delta
. Plan your trip with various activities in this agricultural land such as visiting floating markets in the early morning, geting involved in making traditional cakes, cycling around the local villages and self-picking tropical fruits at the orchards along the Mekong River.
Conquer the Mt.Fansipan, Sapa
Sapa is among Vietnam's most untouched mountainous areas offering the gorgeous off-the-beaten-path holiday. Sapa ranks along with Halong Bay and Hoi An in terms of attracting tourists solely on the merit of its natural beauty and surrounding attractions. It is not an exaggeration to say that Ha Giang is a paradise on earth for hiking & trekking tours with homestay experience at local houses of the hill tribes.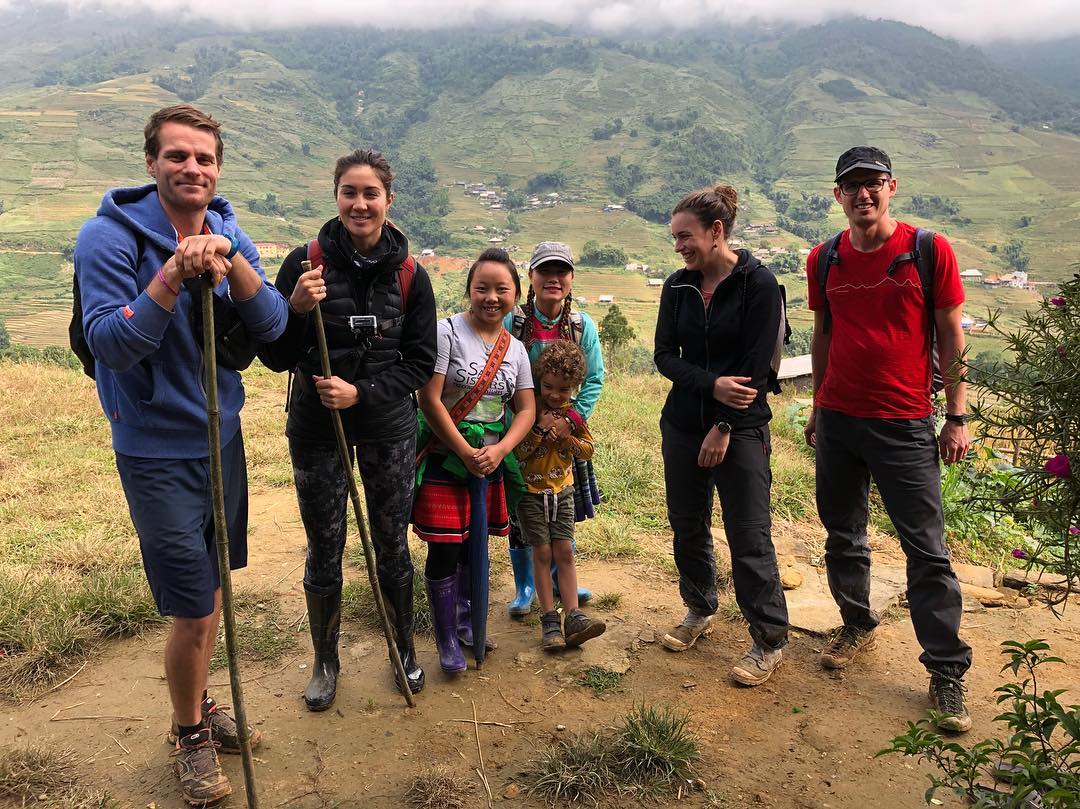 Trek in Sapa

Sapa is perched dramatically at an elevation of around 1600 meters on the western edge of a high plateau, facing the hazy blue peak of Mount Fansipan – the peak of Indochina at the height of 3143m. Challenge yourself
with a trek to conquer "the Roof of Indochina"
, if it is too strenuous for your kids, just join a short trek around the local villages and explore the unique mountainous culture.
Combine the destinations above to create a family holiday in Vietnam filling with various activities including exploring culture, cuisine, history and adventurous experiences. Contact
Active Travel Asia
to plan your upcoming family holiday in Vietnam.
Responsible Travel
Being a responsible eco tour operator is at the heart of what ACTIVETRAVEL ASIA is all about. From the start, we have been committed to offering low-impact tours that benefit traveler and host alike. We work with local communities, businesses and individuals to develop sustainable tourism opportunities that help local economies while minimizing negative environmental and cultural impacts.