Typhoon season in Vietnam: Travel tips you can't miss
Vietnam is a coastal country so it's one of the countries which is often affected by storms in Southest Asia. If you're plan to travel during
typhoon season in Vietnam
, then there are some notes you should read before setting off.
An Overview Of The Typhoon Season In Vietnam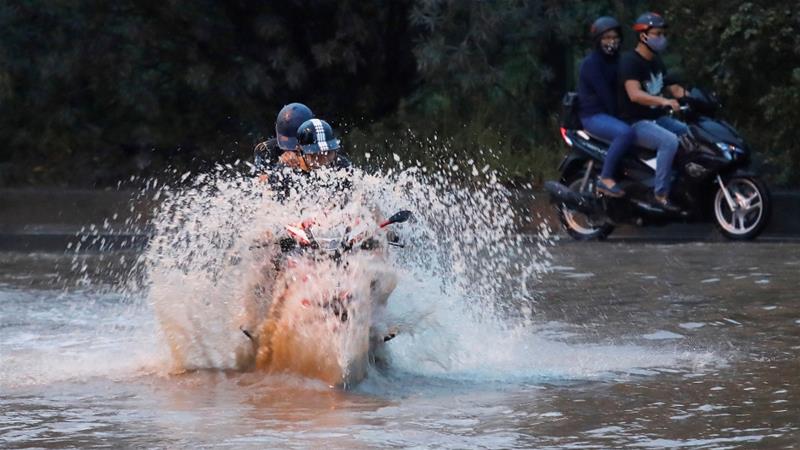 Typhoon season in Vietnam

Vietnam is a tropical nation which is affected by the monsoon. The monsoon season often starts from June to November and during this time, many floods and storms are likely to occur causing landslides in the mountainous areas. In the coastal regions,traffic is often blocked and all beach activities are delayed due to heavy rains during stormy time.
However, because of the differences in latitude and topography, not all the regions in Vietnam are affected by the storms at the same time. This means while one destination is taken by storm; you can still enjoy beautiful days with blue sky and dazzling sunshine in other places. According to statistics, on average, there are about 5-6 storms and 2 – 3 tropical depressions which affect Vietnam every year. Typhoons are most likely to occur in August, September, and October.
The storm also changes its moving direction by season. During the first half of the hurricane months, the direction of the storms is to the northwest, north or northeast. Therefore, Northern areas in Vietnam including popular destinations like Hanoi, Halong will be mainly affected.
After that, the storms often moves down to the middle part of Vietnam, which makes the coastal provinces such as Danang, Hoi An, Hue and Nha Trang vulnerable. The end of the typhoon season is not an ideal time for visitors to come to Southern provinces like Ho Chi Minh and Phu Quoc as they'll be likely to be under the influence of the monsoon during this time.
So, you should take these weather features into consideration when making a travel plan to Vietnam. However, sometimes stuff doesn't go your way. It's always better to read some notes before visiting Vietnam during typhoon season.
Notes When Traveling in Typhoon Season In Vietnam
No one wants their travel trip to be affected by the storm. But if you unfortunately encounter a storm in Vietnam, some travel tips below will be useful for you.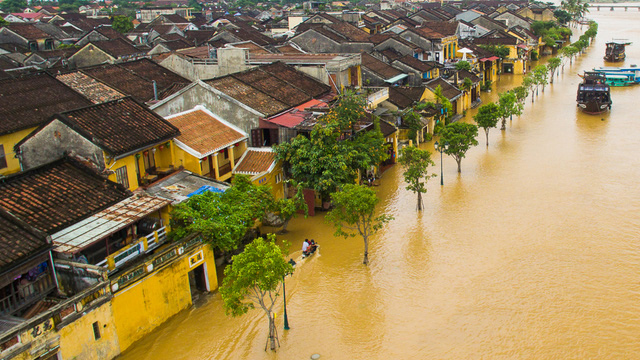 Hoi An in flood
1. Always remember to see weather forecasts before your trip so that you can make an appropriate plan. In case heavy rain, flash floods, landslides occur, especially when you are planning to go to the mountainous areas or the beaches, you should consider postponing the trip or switch to another plan for your safety.
2. Your belongings must always be put in a waterproof bag or protective plastic bag before being put into the backpack so that they will be always dry, or at least it'll limit the absorption of water. Your costumes should be light, thin, waterproof and easy to dry. Don't forget a scarf and, if possible, bring a mini hair dryer.
3. If unfortunately, you are isolated during the storm, first you need to calm down, find a safe shelter, (do not shelter under a big tree or stop in suspected landslides) and seek help from local people.

In case of being stuck on the island like Co To Island during the flood, please notify the family and agencies. Listen to the information and instructions of the authorities, do not arbitrarily move and wisely choose the appropriate solution. Seek help from people on the island first.
4. Always have backup plans/contingency plans such as doing some research about hotels, motels or eating places in your next destination so that you can linger on that place just in case a rainstorm unfortunately happen.
5. Do not forget to prepare personal medicine bags when traveling such as cold medicines, bandages, hydrogen peroxide, insect bites, wind oil, stomach painkillers, common antibiotics in case you get a cold or unexpected accidents happen during the stormy time.
6. You should avoid going to the beach and climbing on rainy days even though you might think light rain is harmless.The weather is erratic, sometimes difficult to predict. If you still want to go to the beach on a rainy day, it's best not to swim. Climbing on rainy days is also very dangerous due to slippery roads and landslides are very likely to happen.
7. Finally, you can turn your journey during typhoon season in Vietnam into an unforgettable experience by adapting to the situation, enjoying and exploring the beauty of the cities and countrysides in the rain, maybe you'll see a different side of Vietnam that you can't see in lovely sunny days (for example, many tourists feel excited when coming to Hoi An in the flood season, and this phenomenon is exploited by many travel companies as a new travel product).
Remember To Bring:
– Waterproof bags to contain your personal items.
– Raincoat and umbrella
– Napkins to clean things when they get wet.
– Do not forget to bring a scarf, as they will help you keep warm, prevent colds and fever due to changes of weather.
– Anti-slip shoes or slippers for long-distance moving. If the shoes get wet, get shredded newspaper and place inside to dry the shoes quickly.
- It's easy to get wet during typhoon time, so you should bring compact and simple clothes instead of jeans or heavy knitted jacket as it doesn't take long for light clothes to dry.
It's always better to travel with a travel agency during the typhoon season because every detail will be prepared and all you have to do is to just enjoy the trip to the fullest. Here are some tours in Vietnam we recommend:
Mekong Delta Tour
Ba Vi Tour by Vespa & Paragliding
Mekong Rustic in Can Tho
Responsible Travel
Being a responsible eco tour operator is at the heart of what ACTIVETRAVEL ASIA is all about. From the start, we have been committed to offering low-impact tours that benefit traveler and host alike. We work with local communities, businesses and individuals to develop sustainable tourism opportunities that help local economies while minimizing negative environmental and cultural impacts.